Brake and clutch levers
Brake and clutch levers for your Super, Adventure and MX Bikes.
These lever are CNC machined from alluminium and come in different colours: BLUE; RED; GOLD; TITANIUM; BLACK they are fully adjustable for any hand size or riding style, they will fold up in the event that the bike is dropped or crashed. The quick thumb adjuster is there to get the feel you want while you ride.
Priced from R850 including the head unit per set.
Titax Levers Website link
http://www.titax.com/products/brake-and-clutch-levers

TITAX SUPERBIKE CLICK to ADJUST Levers are the HIGHEST QUALITY products available. No.1 on the market. Allowing you to manage your bike as never before.
The SMOOTHEST ACTION EVER! Used in WORLD SUPERBIKE SERIES! Used by STUNT RIDERS WORLDWIDE!
Manufactured with the FINEST, LIGHTEST and STRONGEST "Aircraft" ALUMINUM Equipped with ULTRA-TENACIOUS Bearings for the smoothest operation and the HIGHEST PERFORMANCE! Comes as a full set / applicable to O.E.M. Factory – STOCK brake systems. Applications for most sportbikes. Available 7 colors including CHROME ! Two Lengths available: REGULAR and "SHORTY for 1,26 inch/32 mm shorter"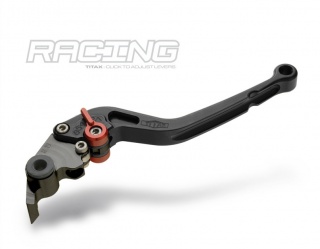 IRC Levers Website link
http://www.ircstore.com/irc_en/folding-levers-brake-and-clutch.html

– Folding lever- 100% CNC machined. Nice shape
-Available for all sports Japanese and Italian bikes and for a lot of naked bikes
-Better adjustment with a screw instead of few steps.
Lightech 
http://www.lightechuk.com/lightech-brake-levers–clutch-levers-583-c.asp

LighTech brake & clutch levers are used extensively by World Superbike riders. Most often mated with a Brembo master cylinders but also available for OEM systems, LighTech's remote adjust brake levers allow racers to adjust for brake fade on-the-fly without taking their right hand off the throttle. LighTech levers are also popular as ergonomic upgrades with adjustable lever travel and crash damage mitigation with their folding lever. Last but not least – sleek & beautiful Italian styling!
Accossato 
http://www.accossato.com/en/master-cylinders.asp
The ACCOSSATO racing line is for everyone who wants to try competitive products, in order to feel their motorcycles' best performance, using the same products used by the most famous pilots of Moto GP, Moto 2, Moto 3 and on the Superbike World Championship, Supersport and Superstock.- 40 different models of master cylinder, for any kind of competitive use
Brembo Master cylinders 
http://www.brembo.com/en/bike/Racing/Racing/Pages/Master-Cylinders.aspx

Master Cylinders from Brembo guarantee immediate, controllable braking power under any condition. The perfected ergonomics of these components provide linear response at any given time.
With ample experience in the design of hydraulic components, Brembo has designed these brake pumps to provide outstanding linearity between the force applied to the lever by the rider and the braking response.
The master brake cyclinders are made from cast or pressure die cast aluminium. This lightweight material offers strength as well as a high quality finish
They offer a unique, unrivalled feel as well as extraordinary controllability.